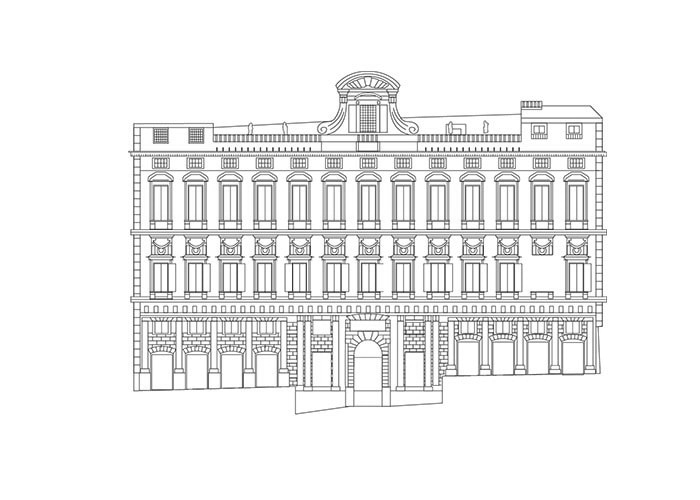 20. Palace of Gerolamo Grimaldi
25 March 2022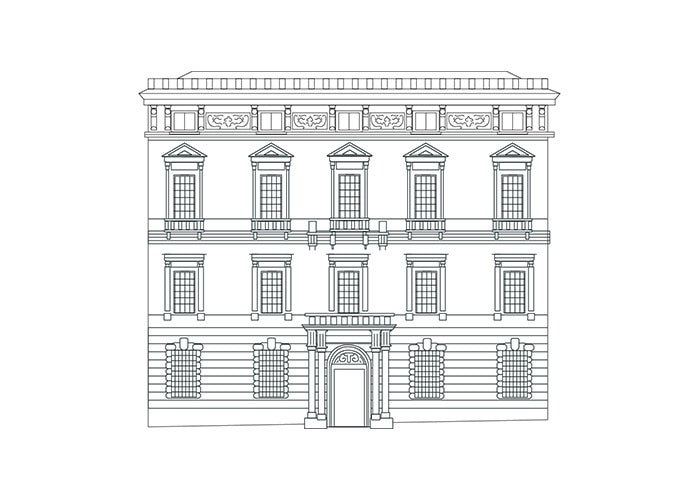 22. Palace of Bartolomeo Lomellino
25 March 2022
21. Palace of Gio. Carlo Brignole
A large portion of the areas on which the palazzo stands and the surrounding areas, closing off "Strada Nuova" to the west, were not included in the city plan for the road.
They were purchased between 1623 and 1626 by Gio. Batta Brignole who, in 1626, engaged the architect Bartolomeo Bianco to build his new residence.
We know very little about this building – which had an access from salita Quattro Canti di San Francesco and a garden alongside the straight stretch of "Strada Nuova", in other words in the area of today's piazza della Meridiana – because the Brignole son and heir, Giovanni Carlo disposed of the adjoining houses of Bernardo di Franchi's heirs to virtually double the size of the palazzo.
This was achieved by a major rebuilding project directed by Pietro Antonio Corradi starting in 1671: the entrance was moved onto vico Santa Maria degli Angeli, whilst the garden entrance, opening onto Strada Nuova, was embellished with a marble doorway with telamons sculptured by Filippo Parodi. The body of the building facing the garden kept its previous height, whilst the part built from new, with a U plan, had an extra floor.
Giovanni Carlo's grandson of the same name is credited with the interior decoration which saw first Gregorio De Ferrari and then his son Lorenzo working on the vaulted ceilings of the piano nobile.
In relation to the "Strada Nuovissima" opening, today's via Cairoli, in 1786, the garden and a part of the older building were expropriated so that the new road could be joined with "Strada Nuova", and the palazzo underwent a new radical rebuild, possibly directed by Gregorio Petondi.
This major refurbishment was designed to convert what had been the rear elevation to a façade and to adapt the twin porch on columns and the staircase to the new entrance, whilst taking the opportunity to embellish the Parodi telamons.
The Durazzo family took over the property a little after 1820. This family is credited with the decoration of the two parts of the atrium, the figures by Giuseppe Isola and the grotesques by Federico Leonardi, and the relaying of the floors in precious polychrome marble.
Updated bibliography post 1998
E. Poleggi, Genova. Una civiltà di Palazzi, Cinisello Balsamo (Milano) 2002, pp. 153-158 (Palazzo di Gio. Carlo Brignole (1671))
R. Vecchiattini, Palazzo Brignole Durazzo, in "Arkos", supplemento al n. 7/2004 "Il restauro dei palazzi dei Rolli", pp. 72-75.
E. Poleggi, L'invenzione dei Rolli, catalogo della mostra, Milano 2004.
M. Franzone, G. Montanari, Palazzo Brignole Durazzo alla Meridiana, Passignano sul Trasimeno (PG) 2018.
The texts have been updated thanks to the INSIDE STORIES project financed with funds - Law no. 77 of 20 February 2006 "Special measures for the protection and enjoyment of Italian sites of cultural, landscape and environmental interest, included in the "World Heritage List", under the protection of UNESCO.